GoPath Laboratories is proud to announce our newest cancer diagnostic: liquid biopsy to detect EGFR mutations, which are commonly found in the tumors of NSCLC (non small cell lung cancer) patients.
EGFR Mutations in NSCLC
Approximately 10-20% of NSCLC patients have an EGFR mutation. Studies have shown that patients who receive drugs that sepcifically target EGFR overexpression (TKIs) have higher success rates and fewer side effects than patients who are treated with standard chemotherapy. By identifying EGFR mutations, we can predict how a patient will respond to a specific targeted therapy, thus avoiding wasting time on those proven to be less effective.
Why Liquid Biopsy?
Liquid biopsy allows us to examine tumor DNA (ctDNA) that circulates the blood through a simple blood draw. This allows us to monitor a tumor's responsiveness to treatment without needing additional, invasive tissue biopsies that could compromise a patient's health. Liquid biopsy can also be helpful when determining whether or not a patient has a T790M mutation, which would indicate a greater resistance to most clinically available EGFR TKIs.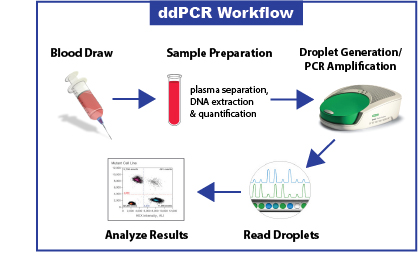 Liquid Bx Technology
Our liquid biopsy assay uses ddPCR technology to achieve absolute quantification, unparalleled precision and higher testing accuracy than other methods. This technology provides tens of thousands of data points from a single sample, rather than a single result. Using ddPCR makes this a highly-accurate, affordable option for analyzing EGFR mutations.
For a complete assay description, methodology and additional information regarding this test, please download our Liquid Biopsy for EGFR Lung Cancer technical flyer found
here on GoPathLabs.com.